WHAT IS A THERAPEUTIC USE EXEMPTION?
Athletes may at times need to use a prohibited medication and/or method to treat a legitimate medical condition. 
A Therapeutic Use Exemption is an exemption that allows an athlete to use, for therapeutic purposes only, an otherwise prohibited substance or method (of administering a substance). 
Applications for TUEs are reviewed by a panel of independent medical experts, the TUE Committee (TUEC) who may grant such permission.
Under the World Anti-Doping Code–International Standard-Therapeutic Use Exemptions (2021) an athlete may be granted a Therapeutic Use Exemption if they can show that each of the following conditions is met:
The prohibited substance or method is needed to treat a medical condition and the athlete would experience a significant impairment to health if the substance were to be withheld.
The Therapeutic Use of the substance or method is highly unlikely to produce any additional enhancement of performance beyond what might be anticipated by a return to the athlete's normal state of health following the treatment of the medical condition.
There is no reasonable therapeutic alternative.
The necessity for the use of the prohibited substance or method is not a consequence of the prior use of a prohibited substance or method prohibited at the time of such use.
A Therapeutic Use Exemption may protect athletes from receiving a sanction if a prohibited substance is found in their sample or advised by Sport Integrity Australia that they can (should) apply as a result of an investigation.
DO YOU NEED A THERAPEUTIC USE EXEMPTION?
STEP 1
First, check if the medication or method you intend to take or use appears on the Prohibited List. You can also check with your NADO/RADO if there is a reliable local source to check or you can check the substance on the Global DRO website. However, do note that Global DRO will not have your local registered drugs.
You have the responsibility to inform your doctors that you are an athlete subject to doping control, and your doctors should check the Prohibited List whenever they prescribe a medication / method to you. If the substance / method is prohibited, check with your doctors if there are any alternative treatments that are not prohibited. If not, you have to apply for a TUE.
STEP 2
Check your competition level to determine to which organization, and when to apply for a TUE.
If you are an International-Level Athlete, you are required to submit your TUE application to your International Federation (IF). Your respective IFs are responsible for accepting applications and granting/refusing TUEs.
Athletes competing in Major Events should consult the Major Events Organization (MEO) on the TUE application process and determine if their pre-existing TUE is recognized by the MEO.
TUEs granted by a MEO will only be valid during the duration of the event. A TUE granted by a NADO or an IF is not valid for the event unless it is recognized by the MEO, although it is valid outside of that event.
Therefore, it is your responsibility to check if the respective NADO's TUE granted is recognized by the relevant IF or MEO (see section 7.1 of ISTUE). Your NADO can assist you in the determination of your level and TUE application requirements, and, should the need occur, assist you in presenting your NADO's TUE to an IF for recognition.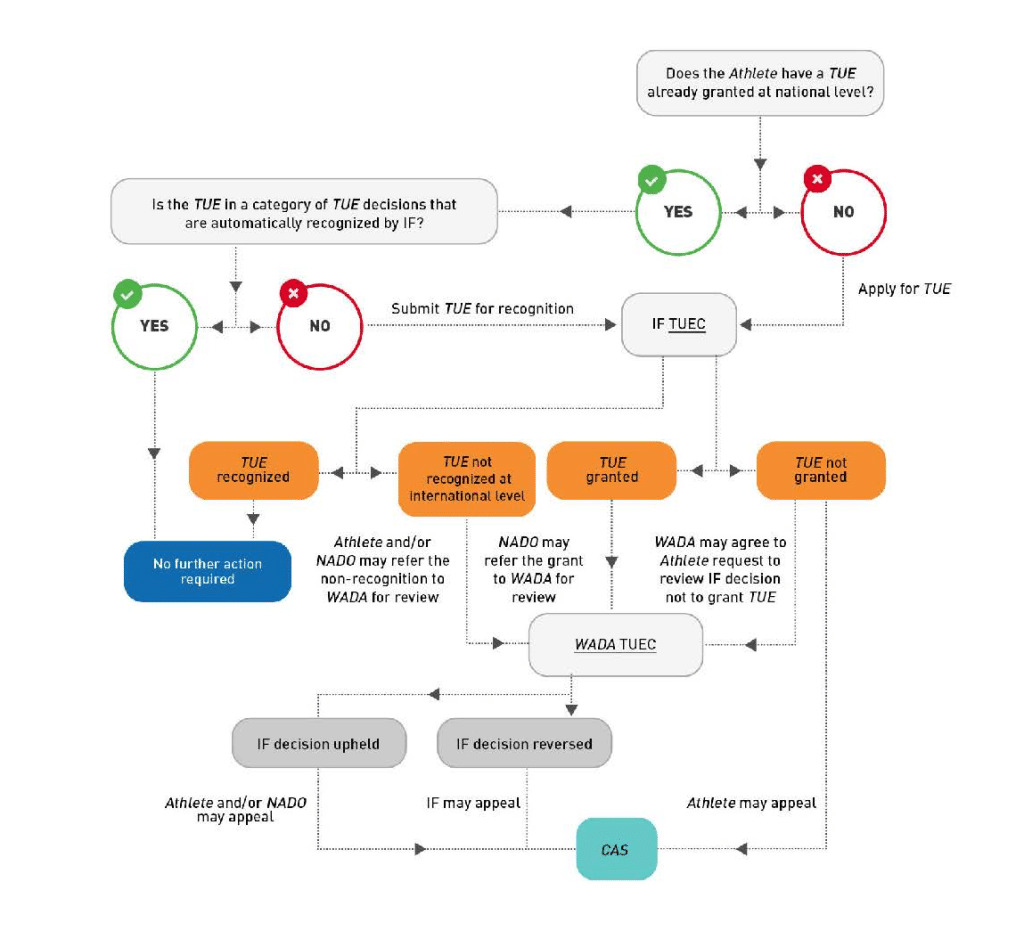 If you are a National-Level Athlete, you must apply to your respective NADO in advance, as soon as the need arises, unless there are emergency or exceptional circumstances.
For substances prohibited in-competition only, you should apply for a TUE at least 30 days before your next competition. Please refer to the section "How to apply for a TUE?" for detailed information.
If you are neither an International-Level nor National-Level Athlete, and are using a Prohibited Substance or Prohibited Method for therapeutic reasons, your respective NADO may permit you to apply for a retroactive TUE (see section 4.1.D of ISTUE).
Athletes must not submit TUE Applications to more than one organization.
Important note: A TUE granted by your respective NADO is not valid at the international level, unless recognized by the governing IF or MEO.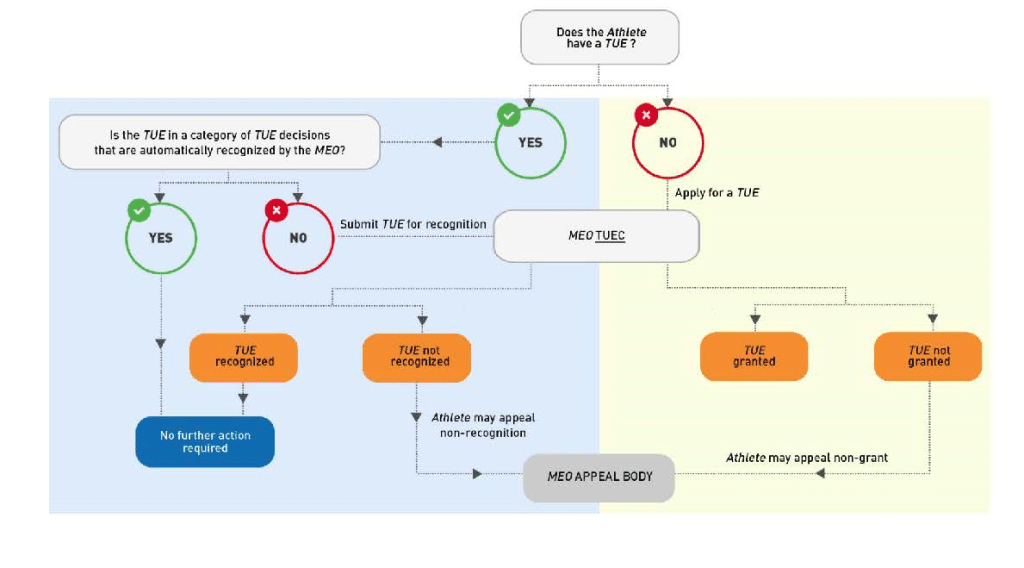 Preparing a medical file does not guarantee a Therapeutic Use Exemption will be granted.
RETROACTIVE THERAPEUTIC USE EXEMPTION
Retroactive Therapeutic Use Exemptions may be approved for the following:
Emergency treatment or treatment of an acute medical condition.
Exceptional circumstances.
Rules allow the athlete to apply for a retroactive TUE (Planned Retroactive TUE).
Athletes who are not International or National level but are selected for doping control.
Athlete used Out-of-Competition, a Prohibited Substance that is only prohibited In-Competition.
The same medical information is required when applying for a retroactive TUE.
THERAPEUTIC USE EXEMPTION APPLICATION PROCESSING
RADOCA TUE Committee have 21 days to consider a Therapeutic Use Exemption application if all the necessary supporting medical evidence is provided. If an application is incomplete it will be returned to the athlete.
If RADOCA TUE Committee approves the Therapeutic Use Exemption application a Therapeutic Use Exemption certificate will be provided to the athlete, with copies sent to the athlete's doctor and the athlete's relevant sporting administration body.
Therapeutic Use Exemptions last for different lengths of time depending on the substance, from a number of weeks to a number of years. It is your responsibility to check the expiry date and apply for a renewal if you are still taking the medication.
SUBMITTING THERAPEUTIC USE EXEMPTION APPLICATIONS
Therapeutic Use Exemption applications should be sent to:
Email: radocakaz@gmail.com